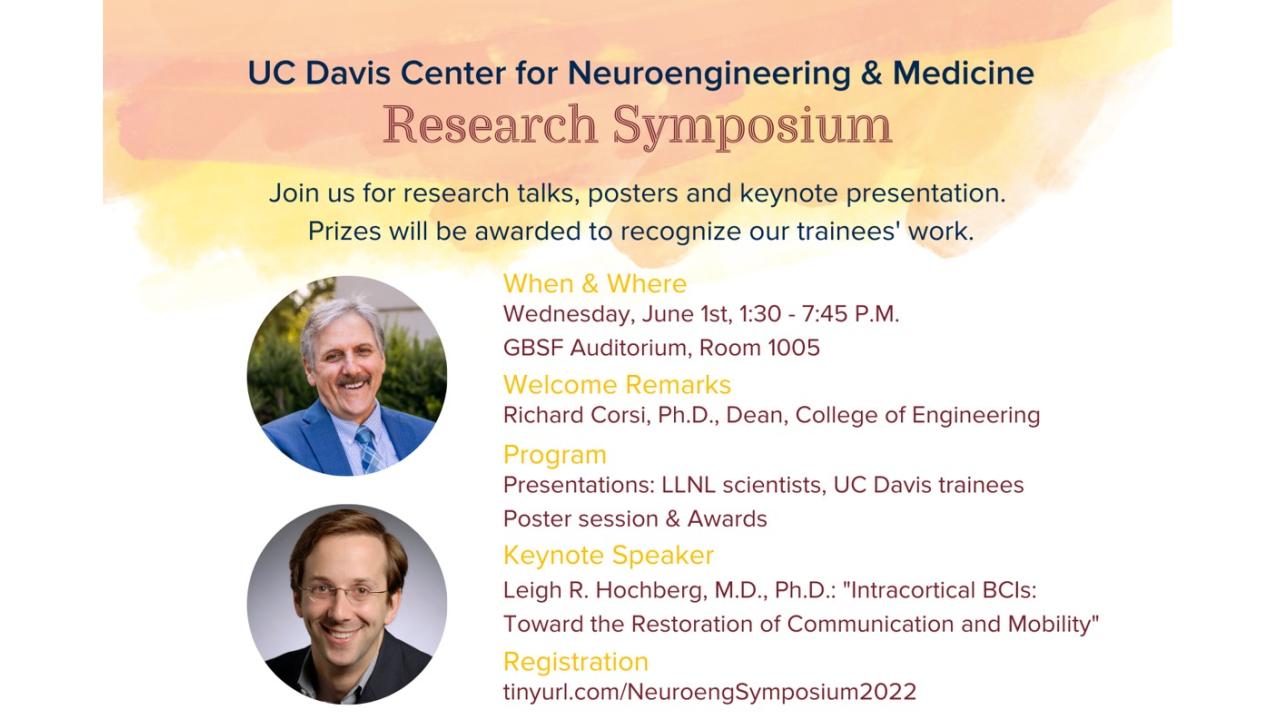 Location
GBSF, Rm. 1005, UC Davis Campus. Registration link: https://tinyurl.com/NeuroengSymposium2022
Select recordings available as listed below.
Join us for research talks, posters, and keynote presentation with Leigh R. Hochberg, M.D., Ph.D. Prizes will be awarded to recognize our trainees' work.
The Center for Neuroengineering & Medicine (@ucd_neuroeng) aims to promote neurological health and extend human capacity, through research, stakeholder engagement, and education, into discovery and translation of systems that interface with the brain and the body, to benefit society. In our inaugural research symposium, we'll bring together neuroengineering scientists, students, and other trainees from engineering, medicine, neuroscience, to share research results and network with like-minded researchers. Presenters include scientists from Lawrence Livermore National Lab, students and other trainees at UC Davis, and keynote speaker Leigh R. Hochberg, M.D., Ph.D. Trainees will compete for awards.
Who should attend: Students, postdocs, faculty, researchers interested in neuroengineering.
Note: We will be following all Campus Event Guidelines as applicable at the time of the event.
Agenda
Time

Agenda item

Moderator

1:30 PM

Welcome remarks: Richard Corsi, PhD, Dean, UC Davis College of Engineering

Dr. Erkin Seker

1:40 PM

Allison Yorita, PhD, LLNL

"Engineering flexible, implantable neural interfaces to monitor the brain"

Dr. Erkin Seker

2:10 PM

Alan David Kaplan, PhD, LLNL

"Multi-Channel Time-Frequency Models for Electrocorticography: Application to Emotional Affect Detection"

Dr. Erkin Seker

2:40 PM

Introduce trainee presentations and poster sessions (12 min + 3 min Q&As)

Dr. Wil Joiner

2:45 PM

Soukhin Das – "Neural Mechanisms of Attentional Control Modulates Task Performance in Deep Neural Networks"

Graduate student, Center for Mind and Brain, Major: Psychology, Ron Mangun Lab

Dr. Wil Joiner

 

3:00 PM

Justin Fitzgerald – "Assessing the control of residual muscles in children with congenital upper limb deficiencies"

Graduate student, NPB Dept., Major: BME, Wil Joiner Lab

3:15 PM

Noah Goshi – "An Organ-on-a-Chip Model to Study Neuroinflammatory and Neurodegenerative Diseases"

Ph.D. Candidate, ECE Dept., Major: BME, Erkin Seker Lab

3:30 PM

Poster session: 18 posters

4:30 PM

Albara Ah Ramli – "A Deep Learning Approach for Identification of Stroke-related Gait Features"

Ph.D. Candidate in Computer Science, Dept. of Computer Science, Xiu Liu & Carolynn Patten Labs

4:45 PM

Logan Peters – "Decodable Multi-Areal Oscillations Underlie Human Decisions"

Graduate student, Engineering Computer Science Dept., Major: Computer Science, Karen Moxon Lab

5:00 PM

Anna Rita Moukarzel – "Establishing Target Muscle Reinnervation for the Prevention of Neuromas and Phantom Pain (N-TMR) for Bionic Prosthesis Control"

Graduate Master student, MAE Dept, Major: Mechanical and Aerospace Engineering, Jon Schofield Lab

5:15 PM

Buffet dinner

 

6:00 PM

Awards

Dr. Wil Joiner

6:25 PM

Introduce keynote speaker, Dr. Leigh Hochberg

Dr. Carolynn Patten

6:30 PM

Keynote presentation: Leigh R. Hochberg, MD, PhD 

"Intracortical BCIs: Toward the Restoration of Communication and Mobility"

Recording available to UC Davis affiliates at this link. 

 

7:30 PM

Closing remarks

Dr. Carolynn Patten
Bios
LEIGH R HOCHBERG, MD, PHD
Neurointensivist and Vascular Neurologist, MGH
Senior Lecturer on Neurology, Harvard Medical School
Professor of Engineering, Brown University
Director, VA RR&D Center for Neurorestoration and Neurotechnology
Director, MGH Center for Neurotechnology and Neurorecovery
PI, BrainGate
Intracortical BCIs: Toward the Restoration of Communication and Mobility
Abstract
Brain-Computer Interfaces (BCIs) are poised to revolutionize our ability to restore lost neurologic functions. By recording high resolution neural activity from the brain, the "intention" to move one's hand can be detected and decoded in real-time, potentially providing people with ALS, stroke, or spinal cord injury with restored or maintained ability to control communication devices, assistive technologies, and their own limbs. BCIs also are central to the development of a new generation of neuromodulation systems, with great potential to serve people with neuropsychiatric disorders. A multi-site clinical trial of the investigational BrainGate system is assessing the feasibility of people with tetraplegia controlling a computer cursor and other devices simply by imagining the movement of their own arm or hand. This presentation will review recent progress in BCIs, the information that can be decoded from ensembles of cerebral neurons, the challenges and opportunities for restorative neurotechnologies in research and clinical practice, and the neuroethical questions that accompany the development of these therapies.
Bio
Leigh R. Hochberg, MD, PhD is a Neurointensivist and Vascular Neurologist at Massachusetts General Hospital and Senior Lecturer on Neurology at Harvard Medical School; Professor of Engineering, School of Engineering and Carney Institute for Brain Science, Brown University; and Director, VA RR&D Center for Neurorestoration and Neurotechnology (CfNN) in Providence Rhode Island. He also directs the MGH Center for Neurotechnology and Neurorecovery (CNTR), and is the IDE Sponsor-Investigator and Principal Investigator of the BrainGate clinical trials, conducted by a close collaboration of scientists and clinicians at Brown, MGH, the Providence VA Medical Center, and Stanford. Dr. Hochberg's research focuses on the development and testing of novel neurotechnologies to help people with paralysis and other neurologic disorders.
Dr. Hochberg and his research with the collaborative BrainGate team have been honored with the Joseph Martin Prize in Basic Research, the Herbert Pardes Prize for Excellence in Clinical Research, the first Israel Brain Technologies international B.R.A.I.N. Prize, presented by President Shimon Peres, and the Derek Denny-Brown Young Neurological Scholar Award. Dr. Hochberg's BrainGate research, which has been published Nature, Lancet, Science Translational Medicine, eLife, the Journal of Neuroscience, the Journal of Neural Engineering, and others, is supported by the Rehabilitation R&D Service of the U.S. Department of Veterans Affairs, the National Institutes of Health including the BRAIN Initiative/NINDS and NIDCD, and philanthropies including the ALS Association, the American Heart Association, the Movement Disorder Foundation and the Cerebral Palsy Alliance Research Foundation.
ALAN KAPLAN, PHD
Research Engineer
Lawrence Livermore National Lab
Dr. Kaplan's research centers around developing data-driven methods for problems in several application areas. He is currently developing machine learning (ML) methods for precision medicine and neuroscience applications. He is interested in electrophysiological recordings of brain activity and probabilistic approaches for noisy, heterogeneous, and irregularly sampled data streams. Other research that he is involved in is the development of computer vision methods for brain MRI using artificial neural network architectures.
ALLISON YORITA, PHD
Staff Engineer
Lawrence Livermore National Lab
Allison Yorita is a staff engineer in the Materials Engineering Division at Lawrence Livermore National Laboratory (LLNL). She received her B.S. in chemical engineering at Brown University and her Ph.D. in chemical and biomolecular engineering at the University of California, Los Angeles, where she worked on creating and characterizing microfabricated devices to detect neurotransmitters and nucleic acids. She joined LLNL in 2016 as a postdoctoral researcher, converting to staff in 2019. Dr. Yorita's research focuses on the fabrication and characterization of flexible implantable neural interfaces, as well as the integration of chemical sensors onto these probes for monitoring of biomolecules and neurochemicals.
Tags